1924
DeLille Oxygen Company was originally founded in 1924 by W.C. DeLille to supply ice and coal to the surrounding areas within Ohio. Soon after being founded DeLille moved into the welding supply industry and was a supplier of gases and hardgoods for that particular industry.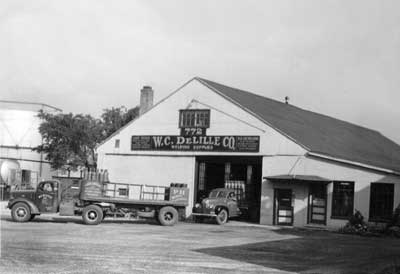 DeLille continued on the path of welding supplies and added multiple locations throughout Ohio. DeLille has continued to expand to serve different industries throughout different areas with welding supplies and gases. DeLille has Ohio locations currently in Columbus, Marion, Springfield, Lima, Wilmington, Lancaster, New Boston and Zanesville. Although the Columbus location is the main manufacturing facility and headquarters, each branch of DeLille has their own gas manufacturing to some extent in order to fulfill their customer's needs as well as to build a reliable network of back-up for each other.
1950
In 1950 DeLille Oxygen Company built their Oxygen plant to fill their own cylinders in order to become a truly independent distributor. The high-pressure cylinder filling was rare at the time for independents, but DeLille wanted to be able to react quickly to customer demands.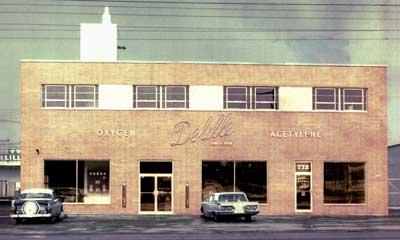 This plant later moved to another building at the Columbus site, but the original oxygen plant site is now our hardgoods showroom.
1963
In 1963, DeLille Oxygen Company was purchased by the current Smith family that still owns and operates the company. That same year DeLille had a Rexarc Acetylene generating plant built that produced Acetylene from Carbide.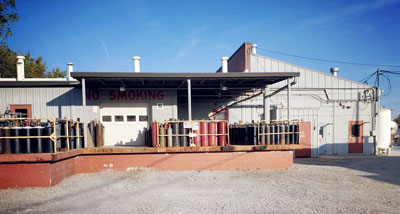 The Acetylene plant was an introductory to gas manufacturing for DeLille as well as the importance of manufacturing independence. Although numerously updated, the same Acetylene plant from 1963 is still in operation to this day at the Columbus, Ohio, DeLille location.
1987
In 1987 DeLille started its equipment repair division to service the equipment that we supplied to our customers. At that same time, DeLille started an equipment rental division so that we could provide welding and cutting machines of all kinds to our customers. Both of these divisions have grown to not only service our customers, but we also serve anyone who needs equipment repaired or needs to rent equipment. Our service center has also expanded from being a certified repair facility for not only Lincoln and Miller, but also for ESAB, Hypertherm, and many other equipment manufactures.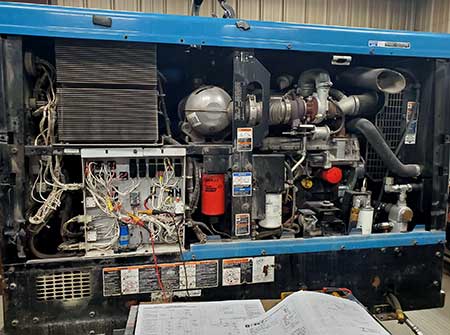 1990
In 1990 DeLille Oxygen Company started their own Specialty Gas division which was rare for an independent distributor at the time. Since then DeLille has continued to expand their offerings in the specialty gas division to suit any industry's needs not only in terms of lead time, but in quality as well. DeLille became a certified supplier for Purity Plus in 2008 in order to have third-party certifications and standards that are even higher than traditional standards.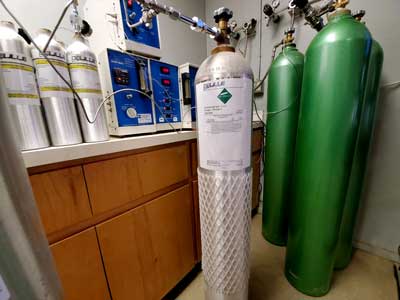 2010
In 2010 DeLille Oxygen Company made a leap into Bulk Gases by purchasing microbulk trucks to serve our bulk customers to our customer service standards.

The bulk division has continued to expand to the point that in 2017 DeLille purchased bulk tankers to be capable of delivering to bulk customers in the best way possible if their needs were not beneficial for using our microbulk trucks. DeLille wanted to be able to supply any capacity a customer would ever need and the bulk division provided that along side our cylinder division.
2014
In 2014, DeLille Oxygen started manufacturing high purity Oxygen and Hydrogen at their Columbus, Ohio location.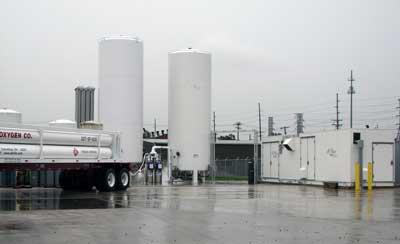 DeLille has continued to produce these high grades of Ultra High Purity Oxygen and Scientific grade Hydrogen as customer needs expanded and needed a reliable source. DeLille also offered these gases in bulk form in order to supply any customer's needs.
2016
In 2016, DeLille Oxygen acquired Nyeco Gas in order to expand our service footprint into the northern Ohio region.

Nyeco is a welding supply company and has locations that service areas such as Sandusky, Tiffin, Toledo, Findlay, Fostoria, Fremont, Norwalk, Bowling Green, Maumee, Lorain, and Oak Harbor. Nyeco Gas is a division of DeLille and offers the same service and products that DeLille offers.